Energy conversion card for LED and USB in trains
The rail embedded electronics equipments must comply with specific standards and regulations. As a result, the power supplies used in rolling stock cannot be standard products. This is why EFS offers energy conversion cards for LED lighting and dedicated USB plugs:
Adaptation to railway operation
Intelligent light dimming management
Operational safety management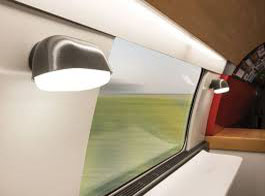 Starting point
Our customer wants to integrate energy conversion functions into their lighting system. Thus, he relies on EFS.
Partnership
Our customer has all the production modules needed to manufacture their lighting equipment. EFS fullfills the customer's experience in energy conversion.
Certification
According to standard NF EN 50155
Design of energy conversion card following standard NF EN 50155 : 2007
Customer issues
A company in the Lyon region, specialized in lighting and sound signaling products in the field of rail transport, asks us to produce the electronics for their products while complying with the regulatory requirements specific to electronic equipment used on rolling stock according to the NF standard. EN 50155: 2007.
EFS Answers
We make two energy conversion cards for LED and USB:
5V DC power supply card.The purpose of this card is to supply regulated 5V, from a railway battery voltage source called 72V or 110V, deported USB charging cards (communication by wired link from 30 cm to 3 m max).
Driver Led. EFS took part into the study and realization of a current regulated power supply intended for lighting based on LED technology and subject to railway constraints. It is used in the TGV ocean line for the following uses: step lighting, LED table lamp, staircase lighting, horizontal lighting, etc.
Highlights
Main card protected and accessless to the customer.
Very low cost secondary card in direct contact with the customer and very easily replaceable.