MULTI-RANGE POWER SUPPLIES
Voltage or current power supplies
EFS has developed a full multi-range power supplies for testing and adjusting thermal and magneto-thermal relays and circuit breakers. It includes direct voltage sources, alternating voltage sources and alternating current sources.
The model opposite is a 220 VA alternating voltage source used for testing alternating contactors in the production line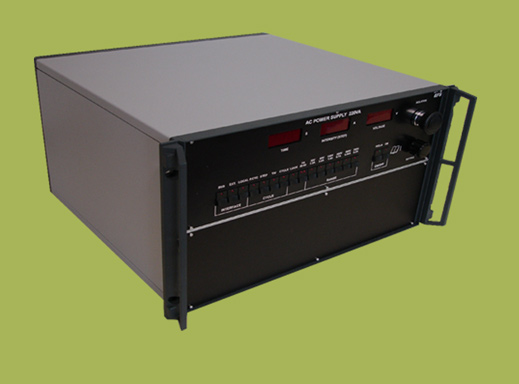 A the beginning
A large company meets us to produce equipments for the test in production of its low voltage circuit breakers.
Highlights
• High regulation accuracy • High electrical efficiency • Minimal operating cost • Industrial use
COMPLETE
• alternating current power supplies • alternating voltage power supplies 220 VA • direct voltage supply 40 W
Multi-range power supplies for the test of thermal and magnetic thermal circuit breakers
Customer issues
Schneider Electric Company requests us to develop and manufacture equipments to test and adjust thermal and magneto-thermal relays and circuit breakers on their production lines.
EFS answers
EFS has developed a full range of power supplies to meet various customer tests.
a range of current sources specially designed for the adjustment of thermal and magneto-resistive AC circuit breakers ref: 8172, 8545, 8326, 8327, 8481, 8565 (photo).
two multi-range voltage sources designed for testing AC or DC contactors
EFS 8371: 220 VA alternating voltage source adjustable in ranges from 0 to 700 V eff.
EFS 8373: 40 W continuous voltage source adjustable in 4 ranges from 0 to 600 Vdc at a power of 90 W.
Advantages
Realization of complete test cycles (ramps, slots …)
Protection of the user by numerous safety devices (isolation, emergency stops) but also of the power supply itself (overloads).
Manual operation (keyboard and digital potentiometer on the front panel) or by an external system (MODBUS link).
Display with accurate output current and voltage measurements.