MULTI-RANGE POWER SUPPLIES
Voltage or current power supplies
EFS has developed a full multi-range power supplies for testing and adjusting thermal and magneto-thermal relays and circuit breakers. It includes direct voltage sources, alternating voltage sources and alternating current sources.
The model opposite is a 220 VA alternating voltage source used for testing alternating contactors in the production line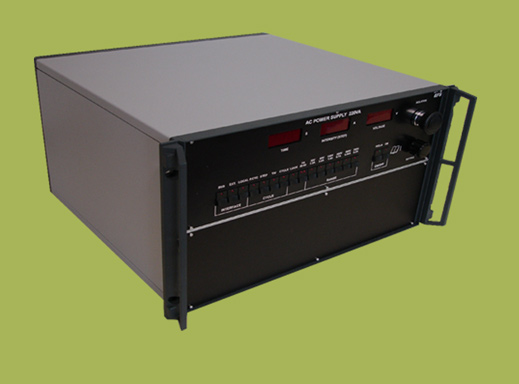 A the beginning
A large company meets us to produce equipments for the test in production of its low voltage circuit breakers.
Highlights
• High regulation accuracy • High electrical efficiency • Minimal operating cost • Industrial use
COMPLETE
• alternating current power supplies • alternating voltage power supplies 220 VA • direct voltage supply 40 W
Multi-range power supplies for the test of thermal and magnetic thermal circuit breakers
Problématique client
La société Schneider nous consulte pour développer et fabriquer des équipements pour tester et régler des relais et des disjoncteurs thermiques et magnéto-thermiques sur leurs lignes de production.
Réponse EFS
EFS a développé une gamme complète d'alimentations pour répondre aux différents tests clients.
 une gamme de sources de courant spécialement conçues pour le réglage de disjoncteurs alternatifs thermiques et magnéto-résistifs  ref : 8172, 8545, 8326, 8327, 8481, 8565 (photo).
 deux sources de tension multi-gammes conçues pour le test de contacteurs alternatifs ou continus
EFS 8371 : source de tension alternative 220 VA réglable en gammes de 0 à 700 V eff.
EFS 8373 : source de tension continue 40 W réglable en 4 gammes de 0 à 600 Vdc sous une puissance de 90 W.
Avantages de la solution
Réalisation de cycles de tests complets (rampes, créneaux …)
Protection de l'utilisateur par de nombreuses sécurités (isolement, arrêts d'urgence) mais également de l'alimentation elle-même (surcharges).
Fonctionnement manuel (clavier et potentiomètre numérique en face avant) ou par un système externe (liaison MODBUS).
Affichage de mesures précises du courant et de la tension de sortie.