CONVERTER AND CHARGER FOR 100% ELECTRICAL MINI-EXCAVATOR
ELEXC (ELECTRIC EXCAVATOR) PROJECT
This project, called Elexc (electric excavator), is the result of a partnership with a large automotive group and a team of six partners. This collaboration has made it possible to develop a prototype of a fully electric mini-excavator. EFS took care of the Electric Power Conversion part and produced two pieces of equipment.
E2228 – 3 kW charger for high voltage battery (420 V- 700 V)
E2225 – 1.5 kW low voltage converter (16-30V)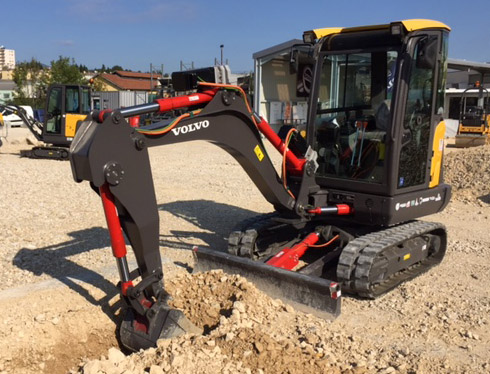 Starting point
Volvo CE is at the origin of the project called ELEXC, the aim is to develop a prototype of a fully electric mini-excavator. This project is part of a consortium subsidized by public institutions.
Partnership
Large automotive group, surrounded by a team of six partners (laboratory and companies).
Advantages
zero pollutant emissions,
a noise level divided by 8 compared to the traditional mini-excavator,
reduced operating costs thanks to an overall energy efficiency 10 times higher
3 kW and 1.5 kW converter
Customer issues
At a time when environmental issues are at the heart of concerns, a large automotive group wishes to develop a 100% electric backhoe. EFS and a consortium of experts in their fields participated in the development of this: the ELEXC (ELectric EXCavator) project.
EFS answers
This innovative project immediately appealed to our company, already very involved in the design of equipment in the field of energy conversion. The purpose of this project is to design and develop a 100% electric mini-excavator, optimized for minimum energy consumption. The main axes identified for this project are the electrification of actuators on the one hand, the generation, storage and management of energy on the other. The last step was vehicle integration. EFS took care of the electric power conversion part.
Highlights
The results obtained perfectly met customer expectations.
The prototype all-electric mini-excavator achieves the same performance levels as a traditional mini-excavator equipped with a Diesel engine: same levels of effort, speed and useful power.
In addition to the "autonomy of use" aspect, the cost of electrical energy and the reduction in the number of maintenance operations make it possible to significantly reduce the operating cost of the equipment.